Equipment
---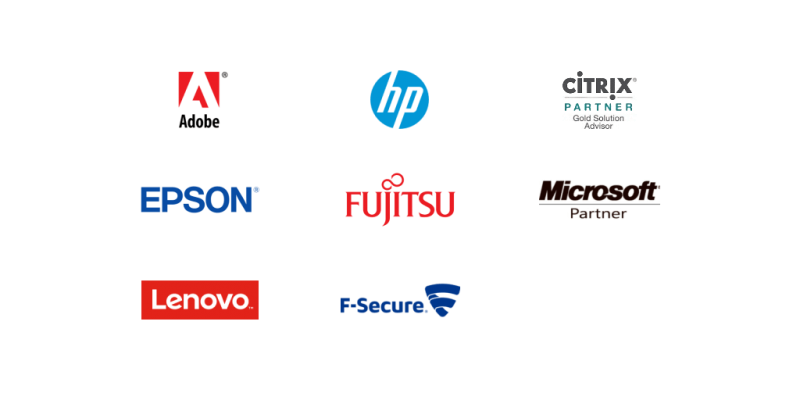 ---
Servers and Storage

Through us you can aquire server equipment meeting all needs from small to large. Servers are available from several manufacturers, aswell as a cloud based service. Physical server manufacturers in our product range include HP, Fujitsu, IBM and Lenovo. Our server selection covers a multitude of devices from small units that can fit under a table all the way to full rack-mounted servers. Considering storage options, we can deliver top quality network storage and backup devices from these top-of-range suppliers - along with ready-to-use solutions.

 
---
Computers

We represent multiple computer manufacturers that we believe make quality products. In business use, the stable functionality of devices along with top-notch support services is important. Even the shortest downtime can result in lost revenue, so the reliable operation of terminal devices is crucial. Our main partners for terminal devices are HP, Fujitsu and Lenovo.

 
---
Software

Through us you can obtain a comprehensive selection of software from different manufacturers. Our catalogue consists of Citrix, Microsoft, Adobe, Corel, Symantec, Arcserve, Veeam and VMware, among others. We can supply the software installed and ready-to-use. These are just a few examples of our large selection, please contact us if you didn't find what you are looking for.

 
---
Network

We deliver high-quality network solutions using the products and services of well known online vendors. Our main partners are HPE, Cisco, WatchGuard and Aruba. Utilizing the wide product range of our suppliers we can establish a safe network environment that will serve your company for years to come. All network products and services can also be prepared so they're ready for your use.

 
---
Security

We represent F-Secure and TrendMicro high-quality and easy-to-use security products. With the use of these partners we can create a secure operating environment in which the user does not have to worry about the safety of their data.

 
---
Printers

Of course there has to be a way to get the produced documents to paper. For this we sell HP and Epson printers. Both are well known printer manufacturers and their wide range of available printers will certainly fullfill every need.

 

Salo
020 719 1232 (klo 8:00-16:00)
Asemakatu 7, 2nd floor.
24100 Salo
---
Vantaa
020 719 1231 (klo 8:00-16:00)
Martinkyläntie 52
01720 Vantaa
© Dataprof Oy 2023